Microneedling: Explore the Many Benefits and Treatment Options
Skin wrinkling was found to be 100%, 87.8%, and 33% in the old, middle-aged, and young people respectively. When it comes to achieving younger, firmer skin, it may feel like you have to undergo several cosmetic treatments to get the results you want.
But this isn't the case. You may only require microneedling to get beautiful and youthful skin.
But does microneedling really work? How long does it take to see results from microneedling? And what are the microneedling benefits?
Keep reading the guide below to find out.
What is Microneedling? Does Microneedling Really Work?
Microneedling is a cosmetic procedure that involves using a device to create small punctures in the skin. This is typically done with a device that contains fine needles. These needles can be adjusted to different lengths depending on the desired depth of the punctures.
The procedure can help enhance the appearance of your skin by reducing the appearance of scars, fine lines, and wrinkles. It can also improve the overall texture and tone of the skin. Microneedling often treats skin concerns like:
Sun damage
Acne scars
Fine lines and wrinkles
Uneven skin tone and texture
Hyperpigmentation
Large pores
But it's important to note that microneedling isn't a quick fix since it involves the growth of new skin. Microneedling downtime can take several months for you to start noticing the full results of the procedure.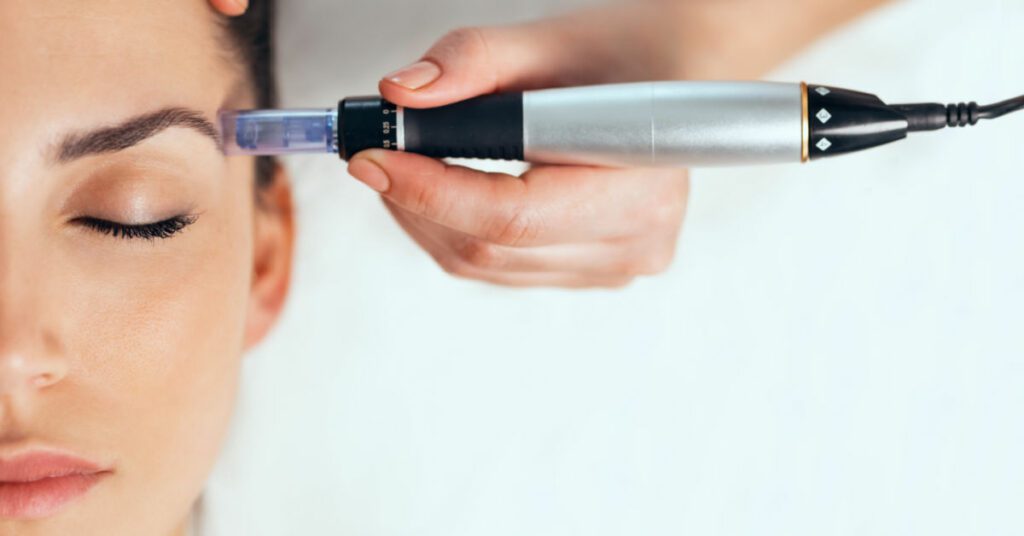 What to Expect During a Microneedling Procedure?
The procedure is usually performed in a dermatologist's office or a medispa. It can take anywhere from a few minutes to an hour to complete. Here are the basic steps for a treatment session:
Step 1: Cleanse the Skin
Before starting the treatment, the skin will be cleansed to remove any dirt, oil, or makeup. This will help to ensure that the microneedling device can glide smoothly over the skin. It also prevents any contamination.
Step 2: Apply a Numbing Cream
To reduce discomfort, a numbing cream will be applied to the skin. This is done about 20-30 minutes before starting the treatment.
Step 3: Select the Appropriate Needle Size
Depending on your skin concerns, the proper needle size needs to be used. For example, larger needles may be more effective for acne scars, while smaller needles may be ideal for fine lines and wrinkles.
Step 4: Start the Treatment
To start the treatment they will hold the device at the required angle and use a gentle, rolling motion to move it over the skin.
Step 5: Cleanse the Skin
After the treatment, it is important to cleanse the skin again to remove any debris or excess product that may have been left behind. To help soothe and hydrate the skin, it is a good idea to apply a moisturizer after the treatment.
Step 6: Aftercare
After a treatment, it is important to avoid certain activities that can irritate the skin. This includes exposing the skin to the sun, using harsh skin care products, and wearing tight clothing that can rub against the skin.
Microneedling Benefits You Don't Want to Forgo
Microneedling is increasingly becoming a popular cosmetic treatment that offers numerous benefits for the skin. Through this process, individuals can enjoy fresher, healthier-looking skin with increased vibrancy and suppleness.
Below are some potential benefits:
Reduced Appearance of Wrinkles and Fine Lines
By stimulating collagen production, this treatment helps to reduce wrinkles and fine lines. This results in a more youthful-looking complexion.
Improved Skin Texture and Tone
As this treatment promotes collagen production it can help improve your skin texture and tone. As a result, you get smoother and firmer skin.
Reduced Appearance of Acne Scar
It decreases the appearance of acne scars by stimulating the production of new cells. Microneedling for acne helps fill in the indentations left by acne scars.
Improved Skin Hydration
Your skin's ability to absorb products such as moisturizers increases. You'll benefit from increased hydration while improving the overall appearance of the skin.
Microneedling Treatment Options
Before choosing to undergo microneedling, a professional medical practitioner will discuss which technique will work best for you as the results can vary widely as well. Learn more below.
1. Mechanical Microneedling
During a mechanical microneedling treatment, the practitioner will use a motorized device called a dermaroller or a dermapen, which has a series of fine needles on its surface. The device is rolled over the skin, creating tiny punctures up to 2.5 millimeters deep.
The purpose of the treatment is to stimulate the production of collagen, a protein that is important for the structure and elasticity of the skin.
2. Fractional Radiofrequency Microneedling
This cosmetic procedure uses radiofrequency energy to stimulate collagen production and improve the overall appearance of the skin. It involves the use of a device that delivers RF energy through a series of tiny needles or pins, which create microscopic channels in the skin facial.
These channels stimulate the production of new collagen, which can help improve the texture and tone of the skin.
3. Mesotherapy Microneedling
This treatment involves injecting small amounts of medications, vitamins, and other substances into the skin.
The idea behind this treatment is that the mesotherapy will help improve the absorption of the injected substances, allowing them to reach deeper layers of the skin and potentially providing a greater therapeutic effect.
Who is a Good Candidate for Microneedling?
Microneedling is generally considered safe and effective for most people, but it may not be suitable for everyone. Some people may be better candidates than others, depending on their specific skin concerns and overall health.
People with certain skin conditions, such as active acne or rosacea, may not be good candidates. It's always highly recommended to speak with a medical professional to determine if this treatment is right for you.
Generally, good candidates are those who have:
Mild to moderate wrinkles or fine lines
Mild to moderate acne scars
Pigmentation issues
Sun damage
Enlarged pores
Microneedling Near Me: Schedule an Appointment
So, does microneedling really work? Yes, it does.
The effectiveness can vary depending on the individual and their specific skin concerns. Some people may experience significant improvement in the appearance of their skin after one or more treatments, while others may not see as much of a difference.
Arria MedSpa in Montclair, NJ is what you need for skin rejuvenation and treatment. We're equipped with the latest technology to kickstart your microneedling treatment. Our trained and experienced team delivers exceptional skincare. And our skin care products are medically certified for a wide range of skin types.
Schedule an appointment today for beautiful skin. The Arria Medspa is located in Montclair, New Jersey