Your Complete Guide to a PDO Thread Lift
Due to its high degree of satisfaction (Global Satisfaction Scale of 4.86±0.02) among patients and experts after a 2-year follow-up, PDO threads are getting much traction in aesthetic medicine.
Their demand is fueled by increasing life expectancy rates and the desire for people to maintain youthfulness. A PDO thread lift seeks to support and reinforce soft tissues in the neck and face.
For decades, facelift surgery helped correct signs of aging on the face and neck. But it carried risks such as postoperative scars, increased risk of infection, and skin incisions.
PDO threads offer a minimally invasive way to improve facial appearance without having to undergo surgery. They use polydioxanone (PDO) threads, which are inserted and anchored into different skin layers using needles.
Here's an overview of this minimally invasive PDO thread lift procedure:
What Areas Can Be Treated With PDO Threads?
Your plastic surgeon can recommend a thread lift to treat facial parts that experience aging signs. Since the procedure is highly versatile, it helps treat many areas of the face, including the following:
Jawline
Neck
Jowls
Naso jugal folds
Nasolabial folds
Undereye area
Crow's feet
Marionette lines
Cheeks
Eyebrows
PDO threads primarily help treat the lower face, neck region, and cheeks. It's because these areas respond well to the procedure. For improved outcomes, your doctor may also combine thread lights with anti-aging procedures like dermal fillers and Ultherapy.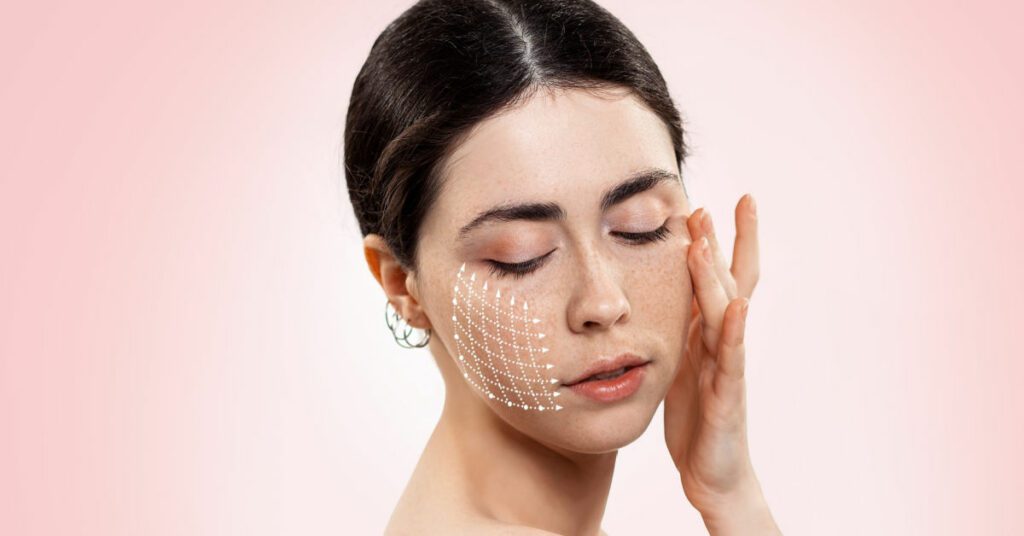 How Do PDO Threads Actually Work?
As a great alternative to a facelift, a thread lift boasts immediate results and longer-lasting collagen production. The minimally invasive procedure uses a flexible, absorbable, and durable polymer that is available in three textures (mono, cog, and screw).
The mono texture offers a small lift since it comes as a single smooth thread, while the cog texture features a barbed thread to lift the skin tissue and stimulate collagen. Consequently, the screw comes in one or two threads intertwined together to augment volume.
When inserted in the skin, these sutures help stimulate fibroblasts in the body for increased collagen production. If your skin lacks enough collagen, it will likely lose its elasticity and structure. Due to this deficiency, you may experience signs of aging, such as wrinkles and sag.
What the Procedure Involves
Surgeons follow different procedures when treating patients using PDO threads depending on the desired outcomes. However, a typical thread lift starts with the doctor applying a disinfectant on your face. They will also use a needle to apply a local anesthetic under the skin.
Next, the doctor will make small incisions on the skin to help hold the thread into place. Once the thread is inserted, its remnants will be cut. Your doctor will allow you to return home once the thread lift is complete.
Recovery and Aftercare
It takes a relatively short time to recover from a PDO thread lift. Also, expect minimal bruising and swelling one to two days after the procedure. On the bright side, you can resume your normal day-to-day activities immediately with good self-care practices.
Your doctor will caution you against rubbing the treated part to keep the thread in place. They will also advise you to avoid drinking through a straw, smoking, and pursing your lips in the first few weeks. Visiting saunas, intense exercise, and sleeping on your side are also highly discouraged.
Benefits of Undergoing a PDO Thread Lift Procedure
The results of a thread lift spread over a few months, leaving the skin with lots of collagen. Even better, you may want to consider this nonsurgical facelift with Nova Threads for the following reasons:
Stimulate Collagen Production
Once the doctor implants the PDO threads on the skin, the body produces collagen to improve the skin's youthful appearance. Collagen helps eliminate aging signs such as drooping, sagging, and wrinkles.
Improve Skin Texture and Laxity
With increased collagen production, your skin's texture and feel will improve. Your skin will also appear tender and more hydrated. As a result, you will have fewer wrinkles and fine lines and reduced cases of dryness.
Since PDO threads help plump the skin, they reduce skin laxity. You can count on them to make your face look more youthful and fuller.
Reduce Fine Lines and Wrinkles
Most people undergo anti-aging treatments to reduce fine lines and wrinkles on the skin. Thread lifting is one of the anti-aging remedies that can help reduce these signs. It repairs and hydrates the skin, making aging signs less noticeable.
Minimally Invasive
Before thread lifts became popular, facelift surgery (among other invasive surgeries) helped people maintain youthfulness. Unlike a facelift, a thread lift doesn't involve any scarring or incisions. Provided you are a suitable candidate; the treatment won't require any further preparation.
Longer Lasting Results
Unlike dermal fillers and injectables, PDO threads produce longer-lasting results. You can even undergo the treatment regularly to maintain a youthful appearance.
Sticking to healthy lifestyle choices such as hydrating, getting adequate sleep, and eating a balanced diet can help prolong the results.
It Pairs Well With Other Anti-Aging Treatments
Your doctor can combine thread lifting with other anti-aging remedies for improved aesthetic outcomes. These facelift options include dermal fillers, Botox, medical facials, and chemical peels. Your doctor may also recommend this procedure to patch up previous facelift surgery results.
Who is a Good Candidate for PDO Threads?
Thread lifting can benefit you if you want to avoid invasive anti-aging treatments and delay signs of aging.
It's a great remedy for those looking to improve the texture and tautness of loose skin. You may also consider scheduling a thread lift to improve fine lines or treat jowls on the face.
Generally, both men and women with lines, wrinkles, and sagginess of different degrees are good candidates. The treatment is helpful if these aging signs appear on the face, neck, or forehead. But it would be best if you were in great shape health-wise before beginning the procedure.
PDO Thread Lift Near Me: Book an Appointment Today in NJ
A PDO thread lift is an excellent anti-aging remedy for sagging skin. It is faster and cheaper than a facelift and boasts longer-lasting results.
Count on Arria MedSpa for medical aesthetic and spa skin treatments offered by board-certified surgeons. The treatments include chemical peels, cosmetic fillers, laser resurfacing, hair removal, CoolSculpting, and Botox. Be sure to book a self-care appointment with Arria MedSpa today.